Arlo allows you to copy sessions from a previous multi-session event when creating a new one, so that you do not have to manually load sessions and options each time. Arlo will copy across the session names, presenter, running times, descriptions, and other session related information to the new event, and allow you to confirm the new dates those sessions are running on. 
The following article explains how to copy an events sessions to a new multi-session event.
Steps
From the main menu, select Events.
Select the All tab.
Search for and open the multi-session event you would like to create a copy of. Note: If this is the first time you are setting up this event schedule you will need to enter the sessions manually, as you won't have an existing event to copy from.
From the event page, click Schedule Another.

Enter the Start date for the new event, and choose if you would like to copy Sessions and/or Options across to the new date.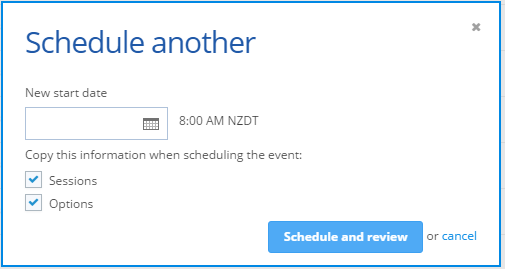 Press Schedule and Review. You will be directed to the Event wizard to setup your new event.
Proceed through the Event Wizard, making sure your new event information is correct.
On the Schedule tab ensure the sessions and options have been copied to the correct dates you would like them run on with the new event. Note: If you need to change any of the session dates/times press Edit.

Proceed through the rest of the event wizard and complete your event setup.