In this article
Arlo supports running multiple regions (countries) within a single platform, including support for multiple time zones, tax rates, currencies, and company details.
Regions are available on the Arlo Enterprise service plans. Contact Arlo Sales if you would like to upgrade.
Important: If you would like to implement multi-region functionality, there is a small mandatory fee for technical consultancy and training on how to do this. For more information about this, contact sales@arlo.co
Regional settings
When your regions have been loaded on to your platform, you will need to add your key and payment settings for each region.
Learn how to specify which settings belong to which region.
Management platform filter
The region selector on the management platform allows you to filter content by region. For example, when you select a specific region/country only events available in that region will be displayed.
From any screen, click the region drop-down.

Select the regions you wish content to be displayed for.


Press

Select regions

.
Event/template settings
When setting up or editing an event, you will be able to choose the regions the template and event are available on separately.
Regional event template and event availability settings explained
Example: You may have a template available in all regions as you might run the event all over the world, but only have a specific event instance available in the UK as that is where you are next running it, and the only place you want to be able to take registrations for the event from.
This means people will be able to access the event information (event template page) from anywhere - but only those in the UK region will be able to register for the event.


Edit an event template/events regions
Open the

Events

menu.


Select the event from the list (if existing) or create a new event (If new).

On the

General

tab from the

Regions

section, s

elect the regions the template is available on.

Press Select regions. Note: If you are changing an existing event template's settings, press Edit shared settings.

Select the regions the event is available for contacts to register on.

Press Select regions.
Important: Once you have finished assigning your regions to the event and event template, you'll need to add regional pricing.
Event pricing
Event pricing example
When setting up an event template/event, you will be able to set multiple price points (per region available on your platform), with a separate price for each region in the respective currency, with the local tax label (GST, VAT..) and tax rate.
Important: A price point must be set for each region you have made an event available in (either on the template or event). If a region has a missing price point, registrations will not be able to be created for that region.
Example: Regional price points

Edit an event templates/events pricing
Open the

Events/Templates

menu.


Select the event/template from the list (if existing) or create a new event (If new).

On the

General

tab from the

Price

section, e

nter the price of the event for your default region.

Press

Add price to add additional regions prices for each region the event is available in.

How regional pricing is applied to events during registration
When somebody registers for an event on your website, Arlo will look for a regional price point on the individual event first. If none exists, Arlo will look for a regional price point on the event template.
Important: If you do not set a price point for a region in which an event is available, an error will be generated at the checkout when somebody tries to register.


Website
Adding region filters to your website
Important: In order for users to be able to filter events by each region, you will need to have a regions filter implemented on your website. The way to do this depends on the website technology you are using.
Arlo Website - This has a built-in regional selector. No further action is required.
WordPress - The instructions on how to implement regions can be found here.
Web Controls - The instructions on how to implement regions can be found here.
Regional website filter examples
Content on your website can be filtered by region/country. All regional content is controlled by the region selector on the website.
Example: If a website user selects UK in the regional selector, on the website:
All event templates available in the UK region

All events available in the UK region

All event pricing will be shown using UK prices associated to events.

Users will be asked to pay for their checkout items in their selected region's currency (the events must have a price for that region associated to them).

Anything not available in the UK will not be displayed.
Website users can change the region by selecting a different region from the region/country selector.
Example: Region selector in the menu bar of the Arlo Website (expanded)


Adding regional items to the Arlo checkout
All courses in an Arlo checkout must be selected from the same region. If a registrant adds courses to your checkout from different regions the cart will be cleared as generally orders cannot be submitted with cross currencies and tax settings.
Regional website links
In Arlo, if an event is assigned to multiple regions, you will have a regional registration link for each one. The regional link ties to the region's settings e.g. Pricing, tax rates, currency.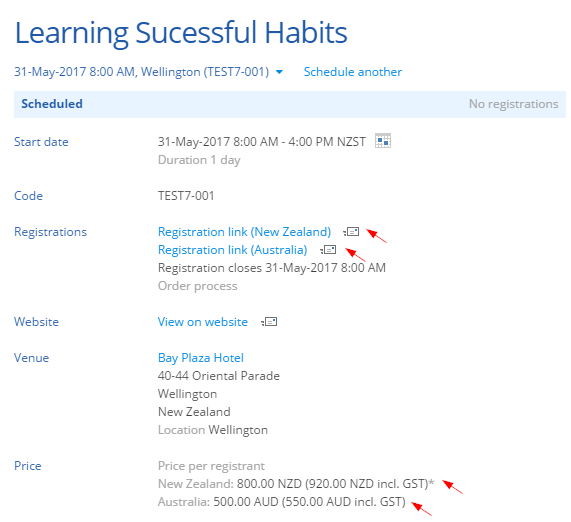 Orders
Orders include regional settings such as currency, a tax label, and tax rate. Invoices can be customised for each region including the invoice address and contact details, and regions can have unique order prefixes.
If you would like regionalised order prefixes contact Arlo Support.