In this article
Arlo allows people to register their interest in an event if the current advertised date(s) or location(s) promoted on the website event page, do not suit.
The 'Suggest another date/location' link is displayed on the event page and if the person clicks the link, they will be taken to the 'Register interest' form. On completion of the form, a lead will be generated.
Accept leads on existing events (templates)
You can choose to enable leads on event templates individually.
Open the Templates menu.

Open the event template you wish to enable leads on.
Press Edit.

Navigate to the Website tab.

Select the relevant lead options as required.

Press Save. Your event listing will now display the lead links specified.
Website listing and form example
Example: Arlo event listing with no scheduled events and suggest another date enabled


Example: Arlo event listings with suggest another date enabled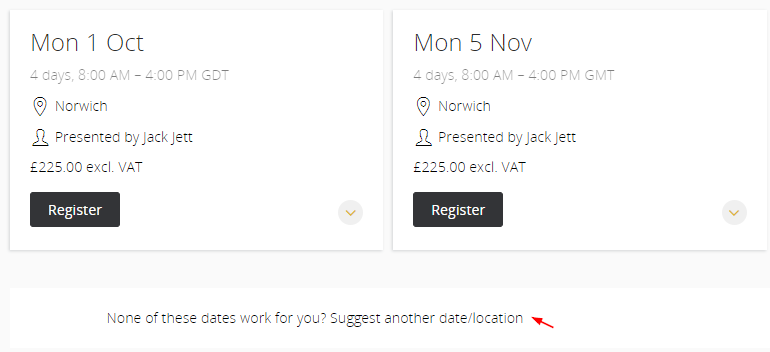 Example: Register interest form (fields, sections, and layout is customisable)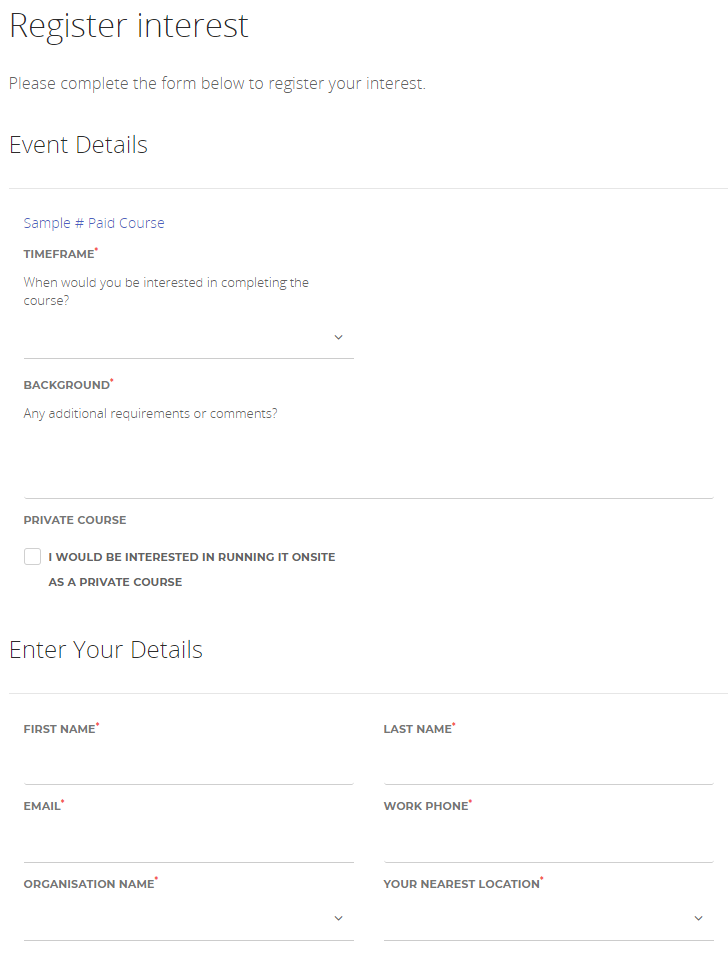 Manually generate the URL
If you are not using an Arlo event template page, you will not have access to this lead form link.
You can generate a register interest link for each template by using the instructions below. In most cases, you will not need to do this, as Arlo does this automatically. If you are unsure about this process, please contact Arlo Support.
Note: Before completing this, ensure the "Display link to suggest another date/location form" is enabled on the event template, and the event template is published on your website.
Standard platforms
Copy the URL below into your browsers URL bar.


http://<PlatformName>.arlo.co/api/2012-02-01/pub/resources/eventtemplatesearch/?fields=code,name,registerinteresturi&filter=code=<TemplateCode>

Update the "<PlatformName>" in the URL to your Arlo platform name, you can find this in the URL of your Arlo management platform e.g. https://<PlatformName>.arlo.co/management/
Update the "<TemplateCode>" in the URL to Arlo event template code you want to generate the lead form for. You can find this when you open the template in the Arlo management platform. Important: This is the template code, not the event code.
Once you have updated the Arlo platform name and template code, press enter. You will get a line of text and within this text is a register interest form URL for your specified template.
Copy the URL within the line of text (above in bold). This is the URL to access the specified event templates register interest form. You can either add this to a button on your custom course pages or send this out to prospects.
Example: {"StartIndex":0,"Count":1,"Items":[{"Code":"BREADS2","Name":"Artisan Breads: Brioche to Focaccia","RegisterInterestUri":" http://demo-au.arlo.co/register-interest?t=0&e=de8a1f5f-23f0-433a-b227-961094f5eb66"}]}
Regionalised platforms
Copy the URL below into your browsers URL bar.


http://<PlatformName>.arlo.co/api/2012-02-01/pub/resources/eventtemplatesearch/?fields=code,name,registerinteresturi&filter=code=<TemplateCode>&region=<RegionCode>

Update the "<PlatformName>" in the URL to your Arlo platform name, you can find this in the URL of your Arlo management platform e.g. https://<PlatformName>.arlo.co/management/
Update the "<TemplateCode>" in the URL to Arlo event template code you want to generate the lead form for. You can find this when you open the template in the Arlo management platform. Important: This is the template code, not the event code.
Update the <RegionCode> within the URL with the region code of the course templates region. The region code can be found at the top of your management platform e.g. NZ or AU.

Once you have updated the Arlo platform name and template code, press enter. You will get a line of text and within this text is a register interest form URL for your specified template.
Copy the URL within the line of text (above in bold). This is the URL to access the specified event templates register interest form. You can either add this to a button on your custom course pages or send this out to prospects.
Example: {"StartIndex":0,"Count":1,"Items":[{"Code":"BREADS2","Name":"Artisan Breads: Brioche to Focaccia","RegisterInterestUri":" http://demo-au.arlo.co/register-interest?t=0&e=de8a1f5f-23f0-433a-b227-961094f5eb66"}]}