Arlo's event confirmation process allows you to accept registrations on an event while you wait to gather enough revenue from the event before confirming it. This is useful if you have to routinely cancel events due to not enough interest.
The event confirmation workflow is turned off by default so that all events are essentially confirmed unless you cancel them.  
If you would like to use this feature, we recommend you contact Arlo Support to discuss testing the feature on a trial site first, so that you can test the feature out completely before turning it on for your existing events. 
Notes:
This feature is only available on

Professional and Enterprise plans

.

This feature, when turned on, applies to all future scheduled events and cannot be turned on and off per event.

This feature does not apply to Online Activities.
New Event States / Event Workflow

State of event   
Purpose 
Communication 
Notes
Draft
Allows an admin to create an event to be reviewed. 
None             
 
Approved                           
Event is ready to receive registrations. 

None

 
Tentative (not confirmed)
Event can receive registrations but is in a tentative state and may be cancelled. Event confirmations not sent.

Registrant: once the order has been approved, the registrant receives a 'Registration Acknowledgement' email advising them the event is not yet confirmed and may be cancelled, and they will receive event instructions if the event is confirmed to run. See example email further along in this article.
Order contact: The order contact will receive a tax invoice (if your Arlo settings specify that Arlo should send tax invoices automatically).  

Confirmations to the presenter and venue contact are not sent until you confirm the event.

Waiting List emails will still be sent, if the event reaches the maximum registration limit while the event is still tentative.

 Confirmed
 Event is confirmed to  run.
Existing registrations (received before the event was confirmed)


When you confirm the event, you will be given the option to:

        * If you deselect these items, you will be able to send/export            them manually from the order.

        ** If you deselect these items, you will not be able to send                them manually later.

Registrations after the event is confirmed

Registrants: Event instructions email (as normal).
Order contacts: All order related emails e.g. Tax invoices.

 
Example of the Registration Acknowledgement: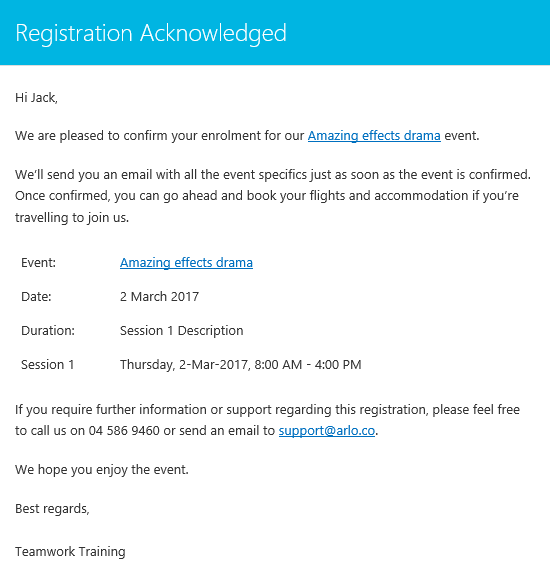 Enable Feature
To enable event confirmations:
Note: If you do not see this setting, please contact Arlo Support to enable the feature first.
From the main menu select Settings.
Select Events.
From the General section, select Events must be confirmed.
Press Save.
Important:
When you turn on event confirmations, all existing events will be marked as confirmed. If you do not want this, please 

contact Arlo Support

.  

Hint: Use the minimum registration alert to let you know if you have not got the minimum number of registrants required by the time the event should be confirmed.
Confirm a Tentative Event
The following instructions describe how to confirm a tentative event.
Open the event you would like to confirm.
Press Confirm this event.

Select the appropriate confirmation actions.
Press Confirm event. Note: Communication associated to a confirmed event may take up to 15 minutes to be sent.

View a List of Events and their Status
From the main menu select Events.
Select the appropriate event status tab, e.g. Completed. 

Your confirmed events will show with a green tick to the left of the item in the list. Tentative (not confirmed) events will not have a green tick.
 View all Confirmed Events or all Tentative Events using Filters
From the main menu select Events.
Press Filters.
Select either Confirmed or Not confirmed.

 Example:
Event List Report
The Event List Report includes a filter and column for the event confirmation status. This enables you to either:
Run a report to show a list of events that are only either confirmed or not confirmed (using the filter):

Or, run a list of all events and include the confirmation status by selecting both 'Confirmed' and 'Not confirmed in the filter, and including the Confirmation column Note: This is not the 'Status' column:

Other articles that may be helpful: