The following article provides a brief overview of managing online activities (self paced).
Arlo allows you to create self-paced events such as eLearning courses or on-demand videos, through the online activities feature.
You can list an online activity as a different delivery method of an event you also run in person and/or online, or you can host it separately on its own website template page. For more information on the other eLearning delivery methods refer to eLearning options.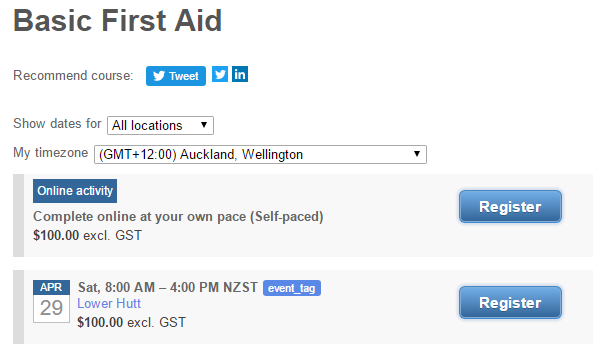 Content
On-Demand Online Activities
Make events profitable and efficient by uploading recorded webinars and/or videos as online activities by directing your registrants to an external URL that contains the course content.
Once an order/registration for an online activity has been submitted, registrants are sent the online activity content URL that is entered when the activity is setup in Arlo.
The activity URL is sent with instructions that you can configure when setting the activity up. For Example: 
Learning Management Systems (LMS)
A learning management systems is a software application for administrating, documenting, tracking, reporting and the delivery of eLearning courses and training events. Arlo has developed a Moodle plugin which integrates Arlo with your Moodle platform 
Arlo offers a full integration with Moodle (Learning Management System) and enables you to create modules that people can complete in their own time, online, from anywhere. These modules can include SCORM packages, quizzes, surveys, wikis, assignments while tracking completion. 
Moodle Integration
Moodle is a learning platform designed to provide educators, administrators and learners with a single robust, secure and integrated system to create personalised learning environments. Arlo has developed a Moodle plugin which integrates online activities, registrants, contact information, automated communication and reporting with Moodle. For more information refer to Manage Moodle Integration.
Online Activity Reporting
Report on online activities using Arlo's reporting feature. The reporting feature enables users to generate both basic preset reports and/or complex reports based on a criteria.  
Notes: The Online Activities feature is only available on Arlo Simple and above. If you would like to add access to this feature, please contact our Sales Team.
Other articles that may be helpful: