View a presenters availability when scheduling an event
Arlo's presenter search allows you to easily check which presenters are available to present at your next event. 
Presenter availability search overview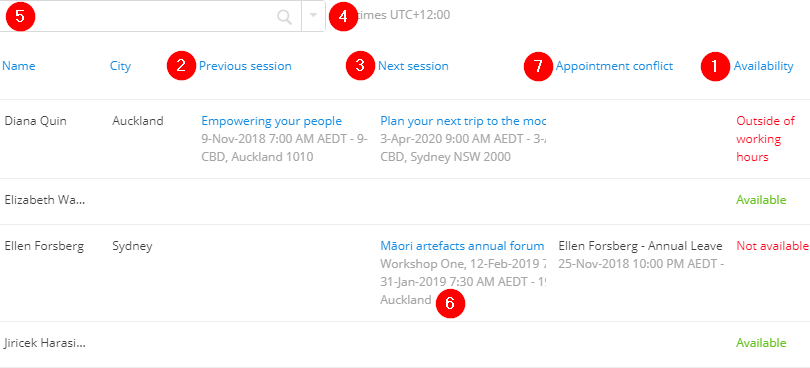 1 Indicates whether a presenter is available for the event you plan to create.
2 Includes information about the event the presenter is scheduled to deliver (city, date, time) prior to the event you are creating.
3 Includes information about the event the presenter is scheduled to deliver (city, date, time) after the event you are creating.
4 Apply filters to only display presenters with a specific set of criteria, e.g. skill sets by filtering by presenter tags.
5 General text-based search to find a presenter(s), e.g. enter a name, organisation or city. 
6 Check the location of the event the presenter is delivering prior (and after) to determine the travel distance and work out if they can deliver the planned event.
7 Includes information about the appointment they have, if they are not available to deliver the event.
Access the presenter availability search
Open the Events menu.

Press New event and start creating your selected event type or edit an existing event. 

Navigate to the General step, enter the start and end date/time of the event.
Click Search...  

You can narrow your search results by applying a list filter.
Click the drop-down arrow to the right of the search box to display the available list filters.

Once you have found the presenter(s) you are looking for, add them to the event. Arlo checks if that presenter is available and displays a warning message if there is a conflict.

If you encounter this warning, press the Schedule conflict warning to review the conflict. 
Note: Arlo tracks conflicts based on the overall event start-finish dates, not individual event session start-finish dates. This means that a conflict will be displayed during a multi-session even if the presenter is only set to present one session.