Arlo's in-house web team provides a range of website integration packages to suit your requirements. We can integrate into most content management systems, and have completed hundreds of website integrations.
In this article: 
Website integration packages
When you purchase an integration package, Arlo will be integrated into your website to provide a seamless user experience for both you and your customers. The advantage of a website integration over using the Arlo website, is that you have complete flexibility when it comes to styling and customisation. The integration technology will be developed to match your websites style, theme and layout.
If you are interested in the Arlo web team integrating Arlo into your website please contact the Arlo sales team.
Note: View our website's gallery to see what is possible with a website integration
Important: The Arlo web team will integrate Arlo into your existing website, they will not develop a new website for you. Please see our list of Partners if you need a website built.
Scope and design
We begin a website integration with a scope and design where we will discuss your requirements with you and review your current website design, structure and style (using a style guide if available).
A comprehensive proposal will recommend which Arlo website modules and widgets will meet your requirements. A meeting will be scheduled to discuss all of the aspects of the proposal and agree next steps.
Website integration packages
We offer 3 competitive website integration packages. Depending on your business requirements and how many pages you want built, this will determine which package we recommend you select. For example, if you only require an upcoming event list and an event template page, then our basic package will suffice. Contact the Arlo sales team to purchase a website integration package.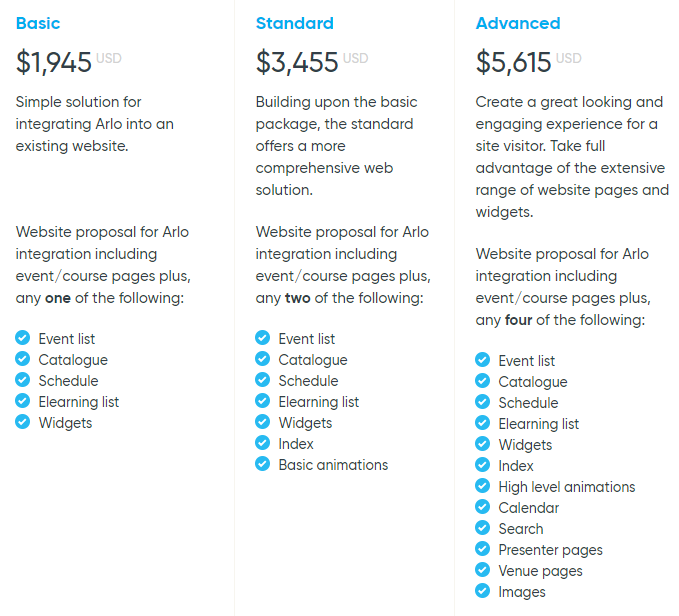 Checkout branding packages (optional add-on)
The Arlo checkout processes your event registrations and payments, so it's important that your checkout looks and feels the part. The Branded and Premium branded checkout options(which utilise our custom checkout functionality) provide a more seamless experience than our Standard checkout option.
If you go with either our Branded or Premium branded checkouts, our developers will style and customise your checkout to match your website. Contact the Arlo Support Team if you would like to upgrade or change your Arlo checkout option to a Branded or Premium branded checkout.

Custom domain on checkout (optional add-on)
The Arlo checkout is hosted by us, meaning that by default, it will have our domain appearing in the URL bar. If you would like your checkout to appear as if it's hosted on your domain, you can purchase a custom domain add-on. Contact the Arlo Support Team if you would like to upgrade to a custom domain on your checkout.

Technical consultation and support packages
We know our product back to front and we built the website integration technology, so we understand the best practices and methods for integrating training and events onto your website. Contact the Arlo Support Team if you would like to purchase technical consultation and support for your integration.