In this article
The following article provides an overview of the communications in Arlo.
Templated emails
Arlo generates templated emails for your events saving you time and effort. This means you don't have to set up and send emails manually, Arlo does all the work for you.
Each email communication has been specifically designed to contain all the necessary information the intended recipient should need. Some emails such as event instructions have room for custom fragments and attachments so that administrators can add their own content to the emails if needed.
Electronic calendar appointments 
Arlo sends calendar appointments as attachments to Event Instructions and Event Reminder emails to registrants, as well as the presenter and venue confirmation emails. These allow customers to easily add an appointment for the event directly into their electronic calendar. Microsoft Outlook, Google Calendar, Apple Entourage, or any other program that supports iCal appointments will support this feature.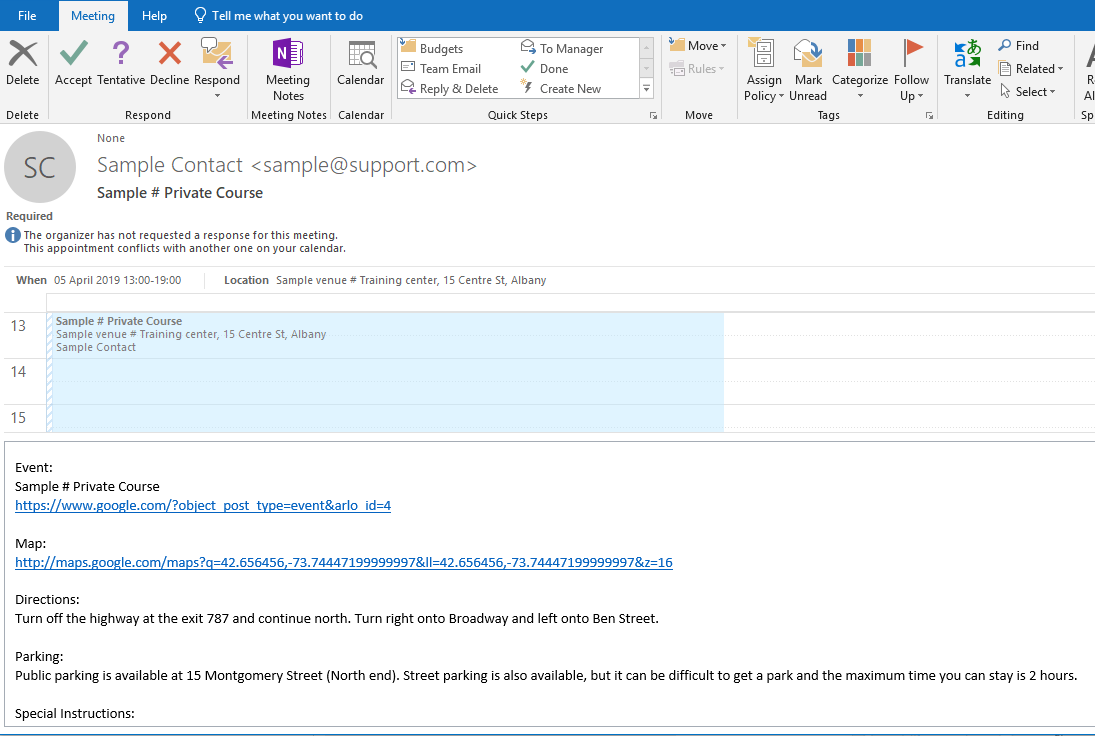 Reminders
The calendar appointments include a reminder 24 hours before the event start. 
Automated updates
If you change details of an event, such as the date or location, Arlo will give you the option to send email updates to all involved. These emails will also include a calendar appointment update. When recipients open and accept the change, the original appointment will update with the new information.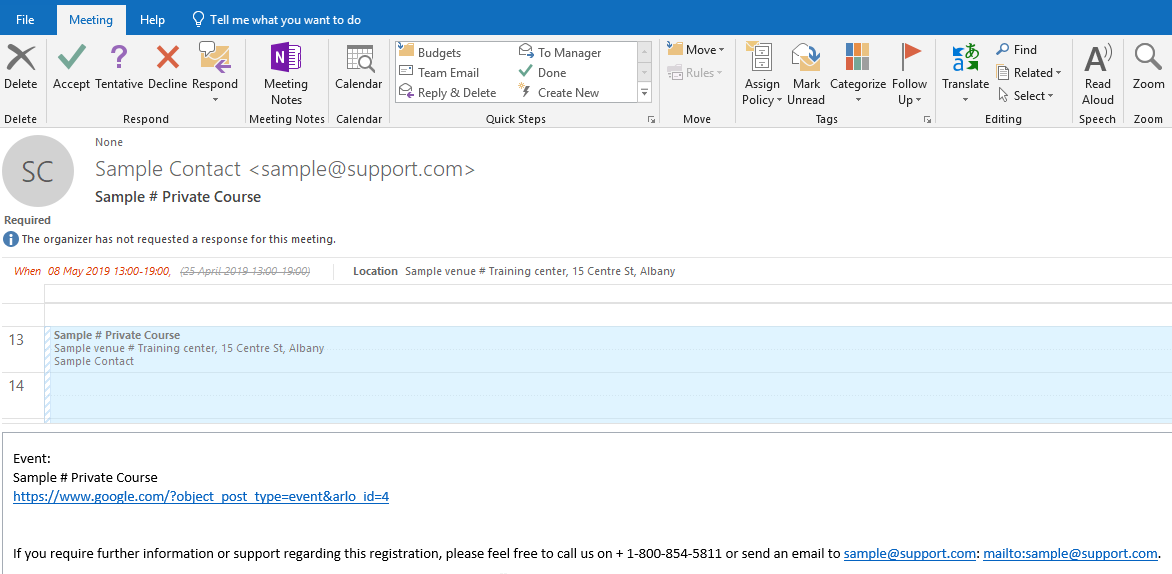 Timezones on calendar appointments
How the time of the event is handled is up to the registrants' calendar. In Outlook, the appointment will use the timezone of the user's computer. In Gmail this is not the case.
For example, an event is held in Brisbane on November 6th, starting at 8am. Danny Devito in Brisbane registers for this event in July. Danny uses Outlook, so when he opens the attachment in July to save it to his calendar, the start time is displayed in the calendar at 8am.
However, Daisy Humes of Melbourne also registers for this event in July, and because she is using Gmail, the appointment shows with a start time of 9am. This is because daylight savings has started in Melbourne by November 6th, but as Brisbane does not observe daylight savings, it will actually be 9am in Brisbane on that date when it is 8am in Melbourne.
You can turn off the calendar appointments feature (calendar appointments are on by default). Contact Arlo Support if you would like to turn this feature off.
List of automated communication in Arlo
There are a number of email templates that Arlo uses. Communication in Arlo has been designed specifically for the Arlo workflows.
View the full list of automated communication in Arlo. Note: By default, email notifications are enabled when creating an event.