The following article describes key troubleshooting instructions for common error messages displayed when using Arlo for Mobile. 
In this article:
Important: If you are using the app, ensure your mobile device meets the technical requirements.
Incorrect email or password
Example: Incorrect email/password error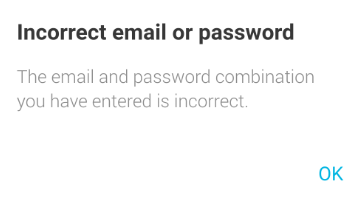 Password/username needs to be reset
Solution: Reset existing username or password details for the user. 
Account not activated
Solution: Resend an activation email from management platform.
Duplicate exists with the same email address/username
Solution: Ensure that the contact associated with the mobile app user is the only contact in Arlo with that email address and that the contacts username and email are the same. Hint: Check if there is another contact with your email address by entering the email address in the global search.
Open the user (administrator, presenter) 

you would like to update.

Press 

Edit 

from the toolbar.

Copy the user's email address.

Select the Security tab. 

Paste the email address into the Username field.
 
Press Save.
Insufficient permissions
If the following message is displayed when you attempt to login to Arlo for Mobile or access events and registrations where you are not event presenter, your Arlo administrator is required to update your user security settings and enable the API role.
Note: Presenters can only access the events/sessions they are set to present on. Arlo administrators can access all events. 
Example: Insufficient permissions error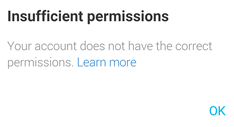 User not setup with correct permissions
Solution: Set up the presenter or administrator access for the user. If presenters need access to events they are not presenting they will need to be assigned an administrator role.