In this article:
The following article describes how to enable and setup presenter requests.
Find and view a presenter request
Open the Events menu

Select the event you would like to search/view requests on.
Press Manage requests


To search, type in the presenters' name in the contact selector, or select the presenter from the Manage requests list to view the request in more detail. 

View a presenter request response
When a presenter has responded to a presenter request, the response of the request is sent to the event/template manager and/or support staff assigned to the event, as long as the Presenter requests summary notification is enabled on the presenter request settings.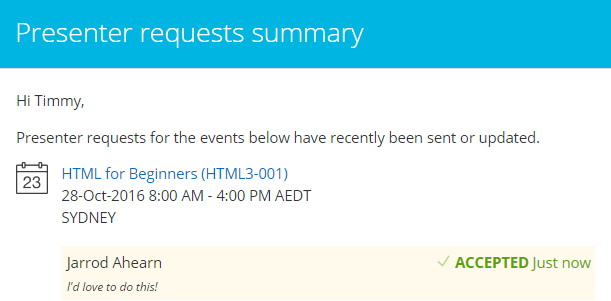 The following instructions outline how to view a response to an individual presenter request with an accompanying message from the presenter (if they have left one), in the management platform.
From the main menu, select Events.
Open the event you would like to view the response for. 
Navigate to the Schedule tab.
Click Manage requests.
Click on the request you would like to view.

The response can be seen on the individual presenter request (along with an accompanying message if one has been left) at the bottom of the page.