In this article
The following article provides instructions for managing certificates, including how to manage your certificate templates, formats, and sending your certificates.
Manage certificate templates (rename, archive, and reorder)
Open the Settings menu.

Select Certificate templates.

Hover over a template to Archive, or Edit the certificate template name. 

Drag and drop certificate templates to reorder them in the list.

Learn how to create certificate templates.
Edit existing certificate templates (upload a new version)
Arlo allows you to download, edit and upload new versions of existing certificate templates. This can be useful if you would like to insert additional merge fields, whilst retaining the original design and layout of your certificate.
Download sample data
Open the Settings menu.

Select Certificate templates.

Press Download sample merge data.

Select Registration data if your certificates are for event completion or select Certification data if your certificates are for certifying attendees using our certifications feature.
Save the file to your computer.
Download the original certificate template from Arlo
Open the Settings menu.

Select Certificate templates.

Download the certificate template you wish to edit.
Edit the certificate template
Save
Save the file to your computer or drive. Learn how to save a certificate with special fonts.
Upload the new certificate template
Select the certificate you would like to replace.
Click Upload new version.

Browse and select the new Microsoft Word document from where you have saved it on your computer.
Press Upload new version.
View/resend certificates sent to registrants
When a certificate is sent from Arlo, a certificate icon will be added to the registration record. Hover over the icon to view when the certificate was sent.


Learn how to resend certificates from the Arlo communication log. 
Edit the default certificate email message
The email sent with certificates can be completely customized in Arlo. When sending a certificate, administrators can enter the message they would like to send.
The message entered is stored as the default certificate message for the administrator. Each administrator can have their own default message saved. 
Example: Sending a certificate with a custom message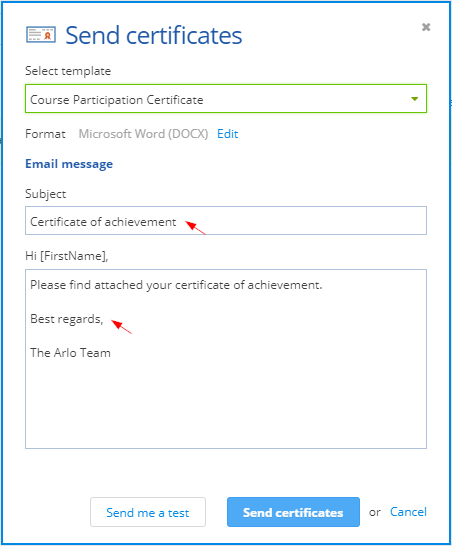 Email certificates to an event's registrants
Learn how to send certificates to registrants directly from Arlo by email.
Download and print certificates for an event's registrants