Arlo allows you to mark attendance/result (pass/fail) on individual sessions. You can report on Session Attendance/Result (Pass/Fail) with the Registration List report.
Note: Learn how to report on basic event attendance.
Mark Attendance on Sessions
Open up the Multi-session event you wish to mark attendance/result for.
Select the Sessions tab.
Click on the Session Name you wish to mark attendance/result for.
Select the registrants you wish to mark. Note: Press Select all to quickly select all registrants.
Press Actions and select Mark as attended or Mark as not attended, and Mark as passed, or Marked as failed.

Repeat the above instructions for any other sessions on the event you would like to mark attendance/results on.
View Attended Sessions
When viewing an individual registration within an event, you will be able to see which sessions they have been marked attended/not attended on in the Registration sessions section.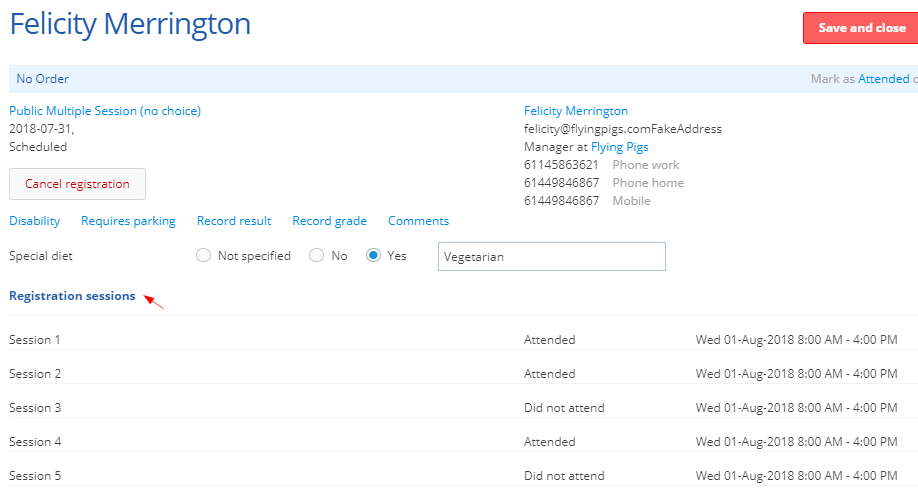 Report on Sessions
Open the Registrations List report.
Ensure that following criteria is selected;
Ensure that the following output options are selected. Note: You can select other outputs you have marked on session registrations as well.

Session name
Attendance
Result

Group the report by Event, and Sort by Session Name.
Either run or export the report.
Note: Below is an example of the report output showing attendance marked on Individual Sessions. 
Other articles that may be helpful: