If you are using Arlo's Multi-Region functionality with the Arlo WordPress plugin you need to configure your Arlo regions within the plugins settings and add the regions selector to your event pages.  
Setup regions within Arlo plugin settings
Open your WordPress administration dashboard
Select Arlo Settings from the left side menu
Select Regions
Add the regions configured on your Arlo management platform. You will require the regions ID and region name as displayed on your Arlo dashboard.
The regions ID is displayed in the top right corner of on your Arlo management platform next to the search bar e.g. NZ, AU

The regions name is the full name of the region. This is the name website visitors will see in the regions drop down on the website e.g. Australia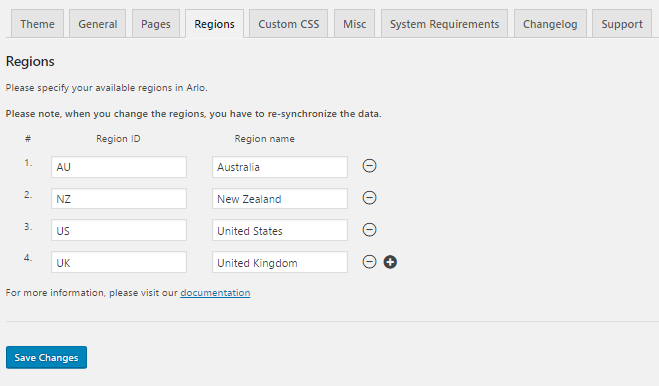 The order in which the regions appear is the same order they will appear in the regions selector. Click and drag the regions into the order you prefer. Select Save Changes and re-sync the Arlo WordPress plugin.
Add regions selector to event pages 
To allow the visitors to select a region, you need to add the regions selector to your event pages to view events in each of your regions. 
Please view developer documentation for adding region selector to your website.