In this article
Arlo allows you to report on your data in a number of ways; including views, filters, exports, and structured reports. The following article provides generic instructions for our handy report management features, such as creating custom favourite reports and scheduled reports.
Report features and settings
Standard reports' features and settings
When you open a report, only the basic settings/options will show. 
Click More options or press Report settings to display all filters, columns, and other settings.

If necessary, filter the report by certain conditions (exclude results except for those meeting the criteria).

Select the columns you want to be displayed in the report.

Then choose how you'd like the report to be grouped and sorted (if applicable).

Advanced reports/exports' features and settings
Arlo's advanced reports are exports with advanced filtering options where you can include custom information in the report and then group and further analyse in Excel. Like Arlo's standard reports, you can also save these reports as favourites and schedule them.
When you open an advanced report, all available settings will show. 
For example, the Registrations Report (Advanced) includes all data pertaining to registrations.
You can then filter your registrations data when it meets (has to meet):

All

of the following criteria (for example, all registrations received in the last month's time).

And/or

any

of the following conditions (for example, where the event has either completed or is scheduled)


Select the fields (columns) you want to display in the report/export.

Choose how you want the export to be sorted.
Choose the export format. 
Hint: Choose CSV if you are importing the data into another system.
Choose the timezone and event times settings.

Preview the results and then Export for further analysis.
Differences between favourite reports and default report settings

Favourites
Saving a report as a favourite will save the settings exactly as selected to produce custom reports that you can:
Easily access the report from the favourite reports list.
Schedule to be sent to contacts outside of Arlo (Arlo Enterprise plan only).
Store multiple custom version of the standard report. Each favourite report will be its own 'version' of one of the standard reports):
Standard reports:



Advanced reports:


Location of favourite reports:


Defaults
Saving default settings on a report is not the same. Saving defaults will mean:
The settings will be saved for each time the report is opened from the reports list (for all users and events accessing this report in the future).
Reports that can be run from other areas in the platform will use these default settings. For example, the Attendance Register report that you can run from the event homepage or scheduled to be sent to the presenter will use the report's default settings.
You cannot save default settings on advanced report/exports.
Example of report when saving default settings:



Example of report produced from event home page: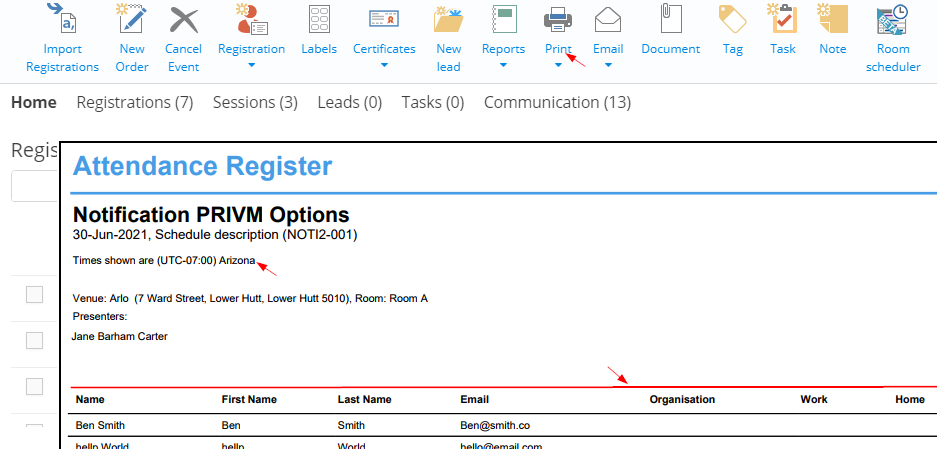 Create custom or favourite report
Create multiple favourite/custom reports to easily get the data you need without having to set the report up each time or having to change the report's default settings for others. Favourite reports can also be scheduled. Learn how to create custom and favourite reports.
Note: Favourite reports are only available on the Professional and Enterprise plans. If you would like to upgrade, please contact sales@arlo.co. 
Save default report settings
Save default report settings when:
Reports always need to include the same settings,
Where reports such as the Event Registrants and Attendance Register are sent from other areas within the system need certain settings. Learn more.
Note: You cannot save default settings on advanced report/exports.
To save default settings for a report:
Open the Reports menu.

From the All Reports list, open the report you would like to save (open the one that gives you the data you need).
Select the settings that will give you the information you need for this report.
Press Save as Default.

On the warning that pops up, press Save as Default.
Scheduled reports
Arlo allows you to schedule favourite reports to be automatically sent on a regular basis to any email address(es), saving you time and ensuring the right people have the information they need. Learn how to schedule automated reports.
Note: Scheduled reports are only available on the Enterprise plan. If you would like to upgrade, please contact sales@arlo.co.
Print multiple reports at once (bulk report option)
Often you will need to print multiple reports at one time. For example, you may need to print all the Event Registrants reports or Attendance Register reports for events starting on a particular day or for a specific week. Rather than having to print of each individual report, you can run a bulk report.
Note: The bulk report feature is only available on certain reports. 
Open the Reports menu.

Select the report you would like to run, e.g. Event Registrants.
Select the Bulk report tab.

Select date range for the start date of the events you wish to report on. For example, select today's date and the same day next week to produce a list of all the events starting within the next seven days. 

Select other fields you would like to filter the report on, e.g. event template, venue, or presenter


Press Search.  A list of all events which are due to start in the period selected and which meet your requirements will be displayed.
Select the events you would like included in the report by ticking the relevant row. You can select all items by ticking the first box at the top of the list.

Press Export PDF to produce the report in a printable PDF format or press Export Excel to produce the report in a format which can be opened in Microsoft Excel.

View and export data
Arlo's generic reports are able to meet most reporting needs by choosing different settings. However, from time to time, you may need more advanced reports and information specific to your organisation. You may also need to import data from Arlo into another system.
In this case, you can export your raw data to Excel to create advanced reports of your own.
Learn more about exporting raw data for system integration and creating advanced reports.